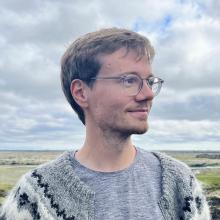 Arinbjörn
Kolbeinsson
Visiting Scholar
School of Data Science
Arinbjörn Kolbeinsson is currently a Visiting Scholar at the University of Virginia, where he collaborates with Tom Hartvigsen on advancing the efficiency, computational speed, and ecological footprint of Large Language Models (LLMs). In this capacity, Arinbjörn is also contributing to the development of cutting-edge model editing techniques. 
Arinbjörn's research portfolio reflects a rigorous focus on the interplay between machine learning and healthcare, with specific expertise in self-supervised learning, time-series analysis, and health outcome prediction. His recent work includes innovative systems for self-supervised and generative models for wearables data, and methods for the prediction, detection, and monitoring of acute illnesses. Additionally, Arinbjörn has explored reinforcement learning for health in human-centric environments. 
During his Ph.D. at Imperial College London, he worked extensively with high-dimensional biomedical data for personalized health outcome predictions, including deep learning applications on brain MRI and genetic data. Throughout his academic journey, Arinbjörn has maintained a prolific scholarly output, as evidenced by his 20+ publications and patents, some of which were developed during collaborations with industry leaders like Samsung AI and Nvidia.
Arinbjörn is committed to leveraging machine learning to drive meaningful advancements, particularly in healthcare, by combining rigorous theoretical research with practical, real-world applications.