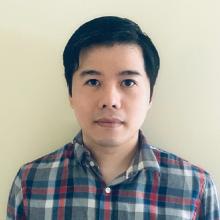 Yen
Do
Associate Professor
AS-Mathematics
Background: I am an associate professor of mathematics at the UVA Math Department. I graduated from UCLA in 2010 and was a postdoc at Georgia Tech and Yale, here are the links to my math genealogy page, my CV, and my Google scholar page.
Teaching: This semester (Fall 2021), I am teaching Math 3100 (Introduction to Probability) and Math 4110 (Introduction to Stochastic Processes). All materials are on UVA Collab.
Lecture notes: To be added.
Research: I work on a number of problems in analysis and probability. There are probably three main themes in my research interests.
(i) Time frequency analysis. Here my main interests are in multilinear estimates for operators with modulation invariants, a subject started since the work of L. Carleson about almost everywhere convergence of Fourier series. One of my favorite open problems in this area is the so-called nonlinear Carleson conjecture, see this blog post by T. Tao and this lecture notes of T. Tao and C. Thiele for some background details. See the recent breakthrough by A. Poltoratski. According to google scholar, this joint work with C. Thiele about outer measures is my most cited paper in this direction.
(ii) Distribution of roots for random polynomials and random functions. Here my main interests are in obtaining universality estimates for the distribution of the real roots of random polynomials and random functions (such as estimates involving expectation, variance, and asymptotic normality for the number of real roots). In this preprint, I considered the number of intersection points for random polynomial curves and deterministic algebraic curves.
(iii) Asymptotics for solutions of nonlinear integrable equations. This was the main topic of my PhD thesis, published here. Here it is well-known that there are nonlinear analogues of oscillatory integrals that can be used to represent these solutions, and it turns out they could be studied by mimicking techniques from real-variable harmonic analysis.
Grants: My research is supported in part by the National Science Foundation under the NSF grant DMS-1800855. My research was supported by the NSF during 2010-2011 under an NSF Math Institutes Postdoctoral Fellowship and partially supported during 2012-2016 by the NSF grants DMS-1201456 and DMS-1521293.
Graduate students: Nhan Nguyen (2019-present), Mark Lewers (2017-2020).
Quick links: UVA Harmonic Analysis and PDE seminar
Papers and preprints: